According to Morgan Stanley, the space industry's current value is $350 billion. Over the next nine years, it'll surge to over $1 trillion.
And as the sector continues to grow, space stocks will rise in tandem. That's exactly why I'm bringing you two space stocks that could reap the greatest benefits…
This Space Tourism Stock Is a Hot Up-And-Comer In the Market
Virgin Galactic (NYSE: SPCE) is a California-based space exploration company. More specifically, the firm is in the business of hypersonic long-distance space travel and tourism.
And while the company has yet to turn a profit, largely due to the fact that space travel relies heavily on research and development, it's making several strategic moves that'll likely pay off in the long term.
Virgin Galactic continues to hold test flights in an effort to uncover potential issues and optimize its vehicles. Its most recent test flight was on December 12.
This operation helped uncover an ignition fault within its rocket's motor. Though, its jet "SpaceShipTwo" has so far had two successful test flights.
Meanwhile, Virgin Galactic in November was awarded a NASA contract. NASA selected Virgin Galactic to provide flight and integration services for the agency's Flight Opportunities program.
The company is one of five others that have been given commercial indefinite-delivery and indefinite-quantity contracts with NASA. The deal will run through July 31, 2023.
Yet, even though space tourism is the company's primary focus, it's also developing broader technology for the market. Virgin Galactic develops everything from unconventional launch systems, rockets, and even satellites.
These factors alone could be enough to help the space tourism company to achieve its goal of $600 million in revenue by 2023.
This is especially true considering one ticket costs $350,000 and there is a massive backlog of customers with reserved flights.
One of the Best Space Infrastructure Stocks Around
Unlike Virgin Galactic, which physically launches rockets and satellites into space, Maxar Technologies (NYSE: MAXR) is a communication, Earth observation, radar, and satellite manufacturer.
The company has a long history of operating within the space sector, having been founded in 1969. This suggests it has a great amount of experience and expertise over other up-and-coming companies in the space exploration industry.
However, it also means it has the infrastructure and production capacity to effectively develop products for the broader space and technology sectors.
This is especially true as it has doubled down on the intelligence and space infrastructure markets over the last twelve months in an effort to capitalize on trends such as 5G.
Currently, many companies are pouring millions, if not billions, into space-based 5G networks.
This is clearly paying off for Maxar…
In the space technology company's third-quarter earnings report, Maxar highlighted earnings per share (EPS) were $1.32 compared to the anticipated EPS loss of $0.69.
The company's revenue was $436 million and its total backlog as of September 30, 2020, was $2.2 billion. Meanwhile, the company's overall cash on hand was recorded at $500 million.
These components, combined with Maxar's strong quarterly results, pushed financial services firm Canaccord Genuity to upgrade the company's share rating to a "buy" back in mid-November. The firm said Maxar's price could go as high as $36 versus its prior estimate of $28.
And as the industry continues to grow, this company should continue to benefit.
Sponsored
Take a look at what was spotted above U.S. skies the other night: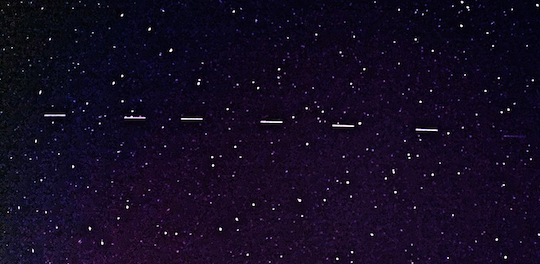 Social media was blowing up with reports of people nationwide witnessing this…

You may have even seen it yourself.

If not, you will be seeing this very soon… it'll soon be everywhere.

That's because what you see above could transform the U.S. economy forever.

This could put dozens of U.S. corporations out of business…

It could create thousands of new jobs…

And it could spawn a potential $1.013 trillion revolution beginning March 31.

For you, this marks one of the greatest ground floor opportunities of your life…